Club Valentine
I've been writing these little bios for our Patreon page and figured I'd post them here too!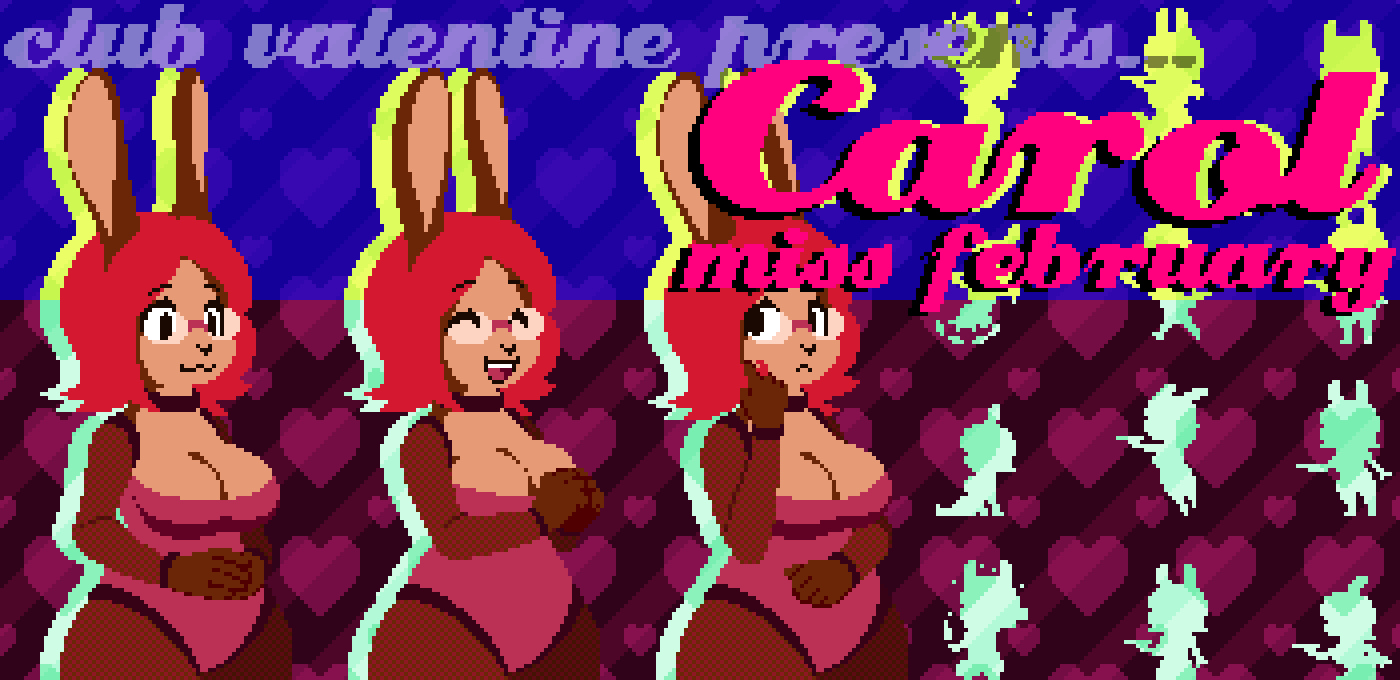 Let's start with the main character, Miss February herself: Carol!
Originally from a little ways north, Carol moved to Sweetport to join the local art college. She needed a part-time job to stay afloat, and Club Valentine was a perfect fit! (It helps that her boss is an alumna of her college...)
She's a little shy and mild tempered, but Carol deeply enjoys putting smiles and blushes on other peoples' faces.
Nina, Ruby, and Jazz are Carol's best friends, and they love to hang out after work. Especially Nina, who shares her nerdy love of anime and video games (and porn). Perhaps there's a more intimate reason they like to get lunch and have sleepovers?
Random fact: Carol wants to illustrate manga, but isn't so great at writing it.
Likes: Quiet walks in the park, fantasy games, magical girl anime
Dislikes: Bitter drinks, getting dirty, rude people
Kinks: Mommy doms, being praised, being smothered

~~~~~~~~~~~~~~~~~~
Meet Nina, Carol's best friend! Nina's fun and nerdy, though she has problems with heights and doesn't like big crowds. Because of her introvertedness, she isn't comfortable doing any "extra services" like the other waitresses.
She and Carol met by chance in a video game store. Actually, Nina had seen her there several times, but didn't say anything until Carol did...
Now they love to hang out on their days off and have fun until the sun comes up!
Unlike Carol, Nina was born in Sweetport and has lived there all her life. She knows all the best secret shops and cafes around town, and loves to take Carol to them. (is it an excuse to go on a date?)
Nina has worked at Club Valentine for quite a while, and she's the one who introduced Carol to it.
Random fact: Nina wears glasses too, but prefers contacts when working.
Likes: Staying indoors, video game soundtracks, roleplaying
Dislikes: Crowds, moving quickly (she gets motion sick), waking up early
Kinks: Baggy clothing with no underwear, casual sex, tentacles
~~~~~~~~~~~
Thanks for reading! I hope these short bios help get you interested in meeting the staff at Club Valentine <3
I'll be doing one for every character, so if you'd like to see them as they come out, along with more about the game's development week-by-week, please check out the Patreon!