Club Valentine
A downloadable game for Windows and Linux
18+ only! This game features suggestive sexual content and mild nudity.
Serve up drinks and lapdances to thirsty clubgoers as Carol, the star waitress of Club Valentine! Features simple and fun gameplay inspired by classic arcade games like Flicky and Mario Bros.
Made for Strawberry Jam 2018.

Game and sound design by vonFawks, with animations and art by Dakk Passerida! <3

| | |
| --- | --- |
| Updated | 4 days ago |
| Status | Released |
| Platforms | Windows, Linux |
| Rating | |
| Author | vonfawks |
| Genre | Platformer |
| Made with | GameMaker: Studio, Audacity, FL Studio, Pyxel Edit |
| Tags | adult, Arcade, club, furry, GameMaker, kink, nsfw, Pixel Art, strawberry-jam |
| Average session | A few minutes |
| Languages | English |
| Inputs | Keyboard |
| Accessibility | Configurable controls |
Download
Click download now to get access to the following files:
Original jam version
45 MB
Version 2 (Windows)
51 MB
Club Valentine Soundtrack
9 MB
Comments
Log in with itch.io to leave a comment.
please make a mac version
I can't, I don't own a mac
This game is so cute and fun. Thank you so much for making it.

Hi there!

I have made a little Valentines Day special on my gaming channel, playing four games that somewhat fit the theme, and I gotta say, this one gave me a good laugh. It's a tight little Arcade-y game with a cute as heck art style, so it has a lot going for it already.
I do feel like it could use a bit more variety a bit sooner.

Granted, I only play for about 20 minutes, but in that time, nothing really varied much in terms of layout, minigames, obstacles or goals. From what I understand reading other comments it does change a bit a bit further in, but I feel like if there were mini games than the lap dance, some other hazards to dodge and such a bit earlier, it'd keep one engaged for longer.

But in all seriousness, Club Valentines is sexy,cute and fun to play. And what more do you need?

It's the first game in the video, in case you wanna watch. Keeping an eye on this:



Thank you for the little spot! This is a very early version of the game- if you passed level 7, you've seen everything it has.
However in the full version (which isn't quite finished yet) there is a ton more variety and the first 7 stages are totally redone to have more variety. I hope you'll try it out when it's ready!
What if I said that I played the game long enough to where it soft locked on me? I've been having tons of fun with it, and I think it was a good stopping point to go to sleep at that time. Though at least I'm getting better at the game and learning some neat tricks. So far my highest before the lock up was the Employees Only one on Shift XXX with a very good score. I started to realize by Shift XXX you can't afford to trip which definitely upped the challenge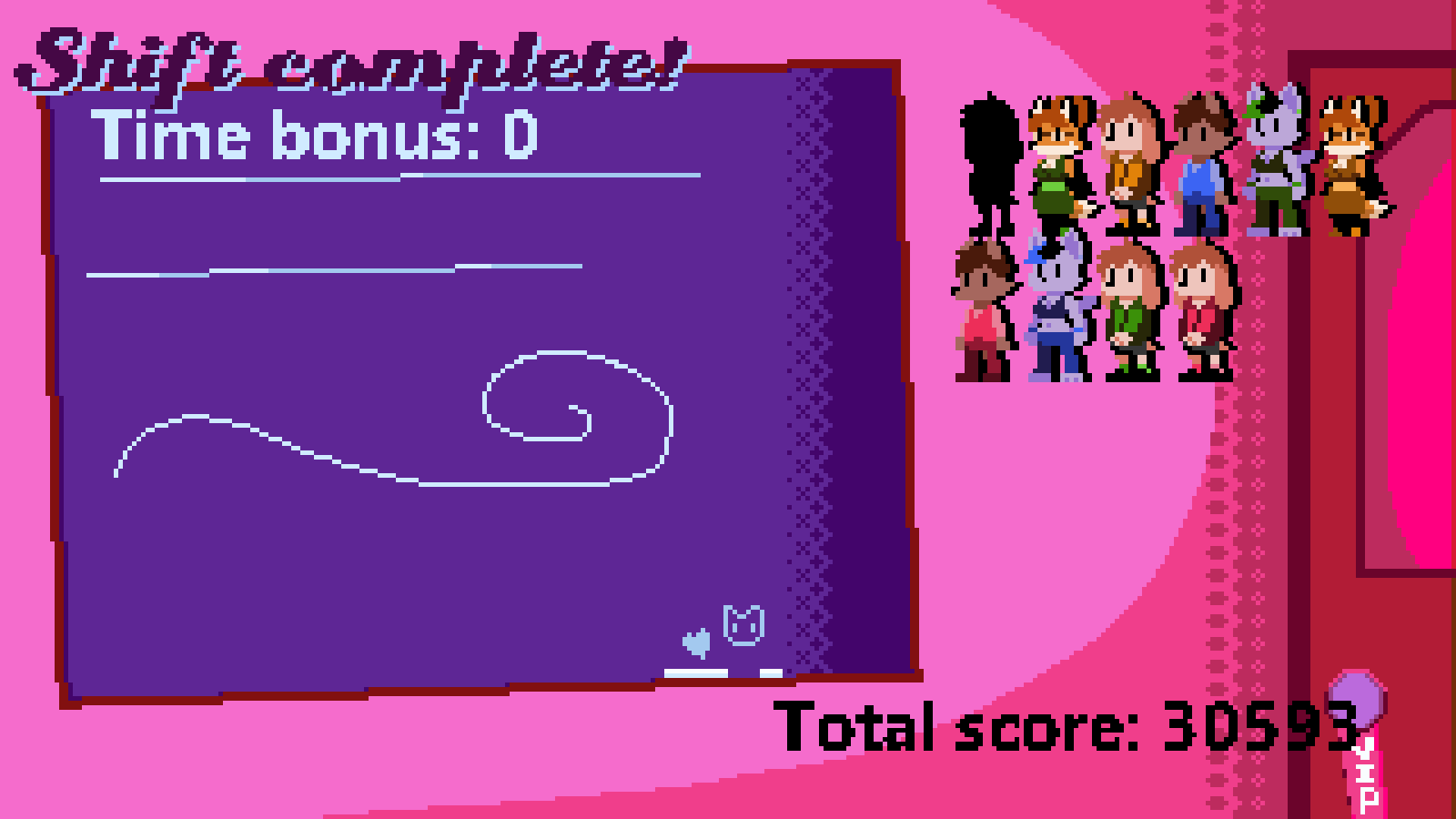 By the way, I will officially say I look forward to seeing the new changes and stuff done for this game. It is really fun to get lost into.
I'm really glad to see you liked the game so much, the current version definitely has a lot more to it. And I had no idea it could soft lock like that!!

I think the soft lock is a result of the bonus time after what happened. I made the mistake of delivering the wrong drink while I was pressed for time and was set to a bonus of -0.50 ( Hence why one of the customers is blacked out. ) When I entered the door the game had soft locked which I almost assumed was a game over state until I waited and realized it wasn't. Though it was like 2 A.M and I needed sleep for college so I shrugged it off, but not before saving my score.
With how Shift XXX basically removes commands to recover from a fall, this made it important for me to finish things quickly. Especially as I hadn't really found a suitable way to slip past the other waitress. This is also partially why I used simple QTEs during my playthrough. I feel inputting 3 random directions in a row before tripping is difficult compared to pressing the same set of buttons, and much easier on a keyboard.
Really looking forward for the next updates!. Keep it up with the awesome work!!!.
OMG, I'm go for the titties and keep playing for the gameplay and the pixel art, it's so fun and cute.
Nice game with fun gameplay and cute visuals. And that pixel art and animation is so nice and fluid, it's actually kinda hot xD
I love the pixel art, and the game itself does remind me of some classics. Well done!